Retaining Walls
Retaining walls literally come in all shapes & sizes! These days there is an amazing assortment of block choices available in a variety of sizes, shapes, styles, colors, stacking systems, you name it.
Rockhard Excavating has been constructing retaining walls throughout the Okanagan for over 15 years now & it's safe to say that providing high quality retaining walls played a fundamental role in developing the foundation of our company itself.
Retaining walls are serious business that needs to be handled by the professionals. Foundations, drainage, angles, slopes & pressures all need to be accounted for & be spot on to ensure the retaining wall is safe, will stand the test of time, and is capable of handling everything that mother nature is about to throw at it.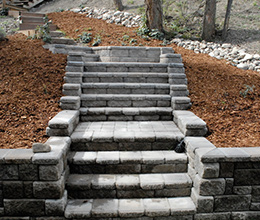 Retaining wall blocks come in all shapes & sized from pre-cast decorative to natural stone.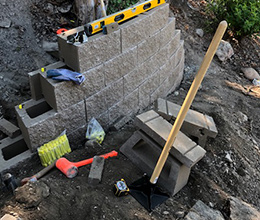 There is more than one way to build a retaining wall. Which way is right for your project?