Land Development & Excavation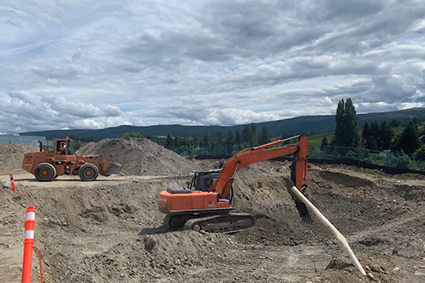 Over the past 15 years we've had the opportunity to work on a large variety of excavating projects both large and small, simple & complex.
For those of you who are new to Land Development, we've put together some of the In's/outs involved to help you get a look as to the types of excavation services we offer, possibly even shed some insight into aspects you may wish to take into consideration for your next excavation project.
If you would like to speak with someone immediately about your land development project
please feel free to Contact us or give us a call directly @ (250) 212-5156
Land Development & Excavation Services
Driveway Preparation
When it comes to driveways, preparation is everything in order to deliver a product that will stand the test of time. Not all driveways are created equal and the specific type you choose will dictate the type of preparations and material we need to use in order to ensure your driveway is going to last.
Elevation, drainage, sub-base, runoff, are all key factors that need to be taken into consideration when laying the foundation for a driveway. Finishing materials can also vary from cobblestone, brick, milling, cement & asphalt depending on the look & feel you're looking for, each excavation & preparation a little different. We're here to help should you have any questions or concerns in regard to your driveway project please don't hesitate to give us a call for a free consultation & quote.
People we recommend:
Security Paving
Erosion Control
Erosion control comes in a variety of methods & applications depending on what the goal of your project is. To list a few & all of which we've done & would be happy to discuss in detail if you like.
Retaining a steep bank
Retaining a steep bank Hydroseeding & Erosion blankets - If you've ever seen a hillside covered with what looks to be green paint, chances are that's "Hydroseeding". The process is fairly simple in that once the hillside has been properly excavated & sloped to the desired angle. A layer of hydroseed will then be applied to the raw surface & covered with a layer of erosion blankets so that the hydroseed flower/plant itself can then grow through the blanket. Effectively forming an organic structure of roots & plant material with immense retaining & drainage properties.
Shoreline Erosion & Land conservation
If your home or property has a shoreline then you will be well aware of the power of water and how quickly it can claim your property if left unfettered. The primary defense against shoreline erosion is laying down a breakwater, essentially a border of large jagged rocks that effectively break up the waves when they hit, keeping them from crashing on the soft earth and dragging it back into the lake. There are certain limits & restrictions when it comes to shoreline erosion control so be sure to give us a call for a quick consult to see if your property fits the bill.
Grading & Sloping
Just as it sounds, grading & sloping is essentially the procedure of scraping material to match a particular grade or "slope" that will ensure the proper runoff in the intended direction or just as easily it can be part of a regular maintenance schedule for removing washboard from popular dirt roads.
We grade & slope a variety of projects from private roads to driveways, new development street & lots, you name it.
Private Roads & Maintenance
We offer several services in regard to private road construction & maintenance. Our service set covers every aspect of road construction from clearing the land, installing culverts & drainage systems, laying & packing foundations & drain rock, digging ditches, spreading & grading the final layer or preparing the driveway for a professional hard surfacing company to come in and lay asphalt or whatever you have chosen. Once the road has been constructed and for pre-existing private roads we offer several maintenance services such as.
Grading
Ditch cleanout & Sloping
Culvert installation
Storm drain systems & maintenance.
Raw Land Clearing & Excavation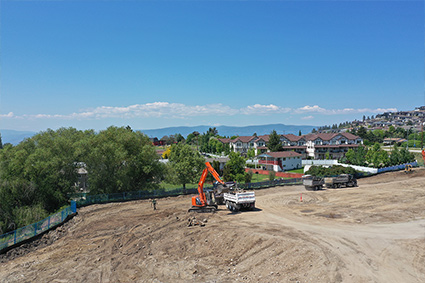 Land clearing is a fairly straight forward service with a variety of seasonal hazards and municipal bylaws that need to be accounted for & factored into the process. Pricing is obviously dependent on the size of the property being cleared as well as the different terrain, structures, obstacles & materials we're going to be working with.
To name a few considerations to take into account before we can begin clearing your land.
Basic Obstacles
Rock, large trees, many trees, extreme slopes, water hazards can all pose significant obstacles and will need to be dealt with accordingly. During our initial visit to your property we will be able to assess & account for the visible obstacles to review with yourself in ensuring that the land clearing goes as smoothly as possible.
Seasonal Issues
Even the largest machines are no match for permafrost! Permafrost is a layer of frozen ground that we need to ensure it has thawed before we begin. Snow can also be a problem as it creates moisture and mud & when the ground is too wet and soft there can be a tendency for the machines to get stuck & as such make the job less cost effective than if it were done during a dryer part of the year.
Rock Breaking (Excavator)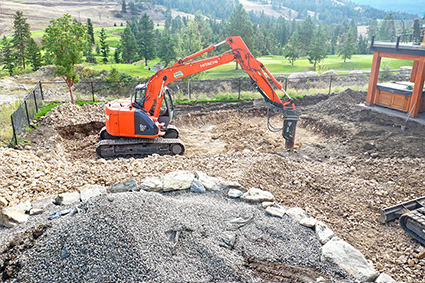 There are a variety of ways to move, break, and transport rock depending on your specific project requirements. For the most part, 95% of all rock breaking can be handled with our excavators & specific rock breaking attachments designed for just such a task. It doesn't just stop at rocks as we can break up virtually any material from cement crane pads, to driveways & virtually any demolition project you can throw at us.
Sidewalk & Walkway Preparation
*Note: We provide sidewalk & walkway rough-in & preparation only. We don't perform the pour itself, although we can recommend several great cement finishing companies that would love to help you with that.
Sidewalk foundations can require specific preparations from drainage, packing densities, crush depth & even specialty underlay in some cases. We cover them all.
For the most part, preparing sidewalk & walkway foundations is fairly straight forward. Before the first layers can be placed we will need to strip and remove all organic material until we unearth a proper base required to start laying the crush to accommodate the walkway. From there we bring in the lasers & mathematics to ensure we pack/level/slop & grade the foundation just right ensuring the proper runoff & drainage. Once the final layer of crush spread & packed the company of your choice can come in and take it from there.
Sidewalk & Walkway products we prep foundations for would be.
Cement
Asphalt
Paving stone
Vulcanized rubber
Hybrids
Site Prep (Foundation Excavation)
Clearing the land.
Clearing Clean Raw Land (No man made structures)
Which we have outlined above if you would like to review those processes - (Click Here)
Clearing Dirty land (Land with structures)
Clearing land with pre-existing man made structures is a little more tricky than simple raw land clearing. Before we can begin clearing, each man made structure will need to be evaluated & demolished as per the city's bylaws & regulations which are a variety of procedures & safety measures that help ensure the environment as well as our excavator operators remain safe. Click here for an outline as to the ins & outs of the demolition process.
Preparing the site.
Once the land has been cleared it's time to plan for the next stage of the project. Below are a few excavating & land clearing/preparing processes we routinely provide throughout the valley.
Preparing Agricultural land
Vineyards and orchards, both private and commercial. Processing the land for agricultural use can be a bit different than the ordinary housing or parking lot. Much of the overburden or "organics" we strip in the initial phase we can screen and return back to the site as a quality growing medium while saving the client time in money by using a pre-existing resource.
Preparing Residential land
New home construction is fairly straightforward, depending on the terrain, rock faces & logs can pose a bit of a problem however for the most part it's just a matter of excavating, scraping, hammering & clearing whatever's in the way of us finding that solid base that we need in order to begin  digging  out the footings  getting the foundation ready  for pouring the footings.
Please note: You will need to have your home plans before we begin this process.
Preparing Commercial land
For information on commercial structure & land clearing, please contact us directly to discuss as these processes can be somewhat in a league of their own.
Preparing Park land
Building & maintaining parks throughout the valley is another mainstream service we provide. We perform a myriad of park related tasks such as transporting & spreading mulch for the paths, playgrounds & walkways, clearing land and setting foundations for a variety of park structures from buildings to parking lots, prefab structures, huts to soccer fields & everything in between.
Grading and road maintenance, ditch clearing, snow removal in the winter is also a large component of our park maintenance arsenal.
Swimming Pool Excavation
Who doesn't like swimming pools! If a pool is in your future, we've excavated virtually every kind of pool set on every kind of landscape throughout the Okanagan valley. We've air lifted machinery into backyards, hollowed out mountain sides & removed mountains of clay just to name a few of the more interesting pool installations we've performed over the years.
The pool excavation process is fairly straightforward. Once again as with many of the other process we first excavate & remove all the overburden. Only with pool excavations we then continue down to the preset depth for your pool as outlined in your blueprints. Depending on what we find at the bottom, will dictate if we need to keep going, or if the ground we're on is solid enough for us to begin laying the proper material for your pools to sit on.
Note: Spring time is pool time! We book up fast so if a pool is in your future, please give us a call well in advance to ensure your place in the que.
Once the area for the pool has been excavated, we then vacate the site in order to allow your pool installers to do their job in installing the pool itself. Once they're done, we come back for the fill & pack. Depending on the type of pool you chose as well as the surrounding hardscape being cement or paving stones, we will often continue with the preparation for the next segment of your project.
Recommend professional services: Oasis Pools - 250-864-5234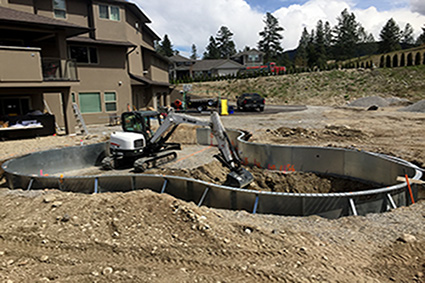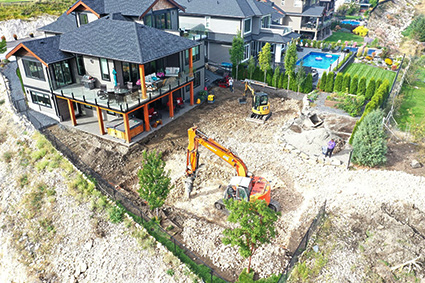 Speak to a professional about your Land Development Excavation project.
Request a call