Trucks & Trailers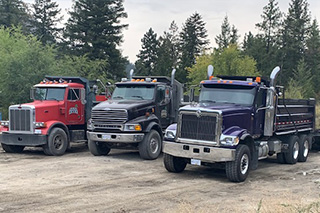 At Rockhard Excavating we employ a large assortment of trucks and trailers both large & small to accommodate the variety of work we routinely perform. When size matters we stock multiple tandem axle dump trucks with pup trailers when needed, capable of transporting massive amounts of material continuously day in ~ day out.
For the smaller jobs we stock regular tandem axle dump trailers & trucks should you be looking for a few yards of sand or top soil, we're but a phone call away..
Material transports is a major component of what we do & having the right trucks and trailers to get the job done quickly and efficiently is critical in ensuring our clients are always getting the best return for their investment.
A sampling of some of the equipment we stock.
Dump Trucks (10 Wheel Tandem axle)
Rates
Tandem Axle Trucks
$110/hr
$140/hr With Pup
$150/ hr with Tridam Pup
For more information on our trucking & hauling services please....
Contact Us