DO YOU NEED HELP WITH ROCK WALLS KELOWNA?
We stand behind our work and know it will last. No fine print and no worries. Ask about our hassle FREE guarantee so you can rest assured the job is done right the first time.

Click for the BBB Business Review of this Excavating Contractors in Lake Country BC Please contact our office for details. 250-212-5156
Allow our experts and high-quality equipment to take care of your requirements. Get in touch with Rock Hard Excavating to make arrangements. We specialize in a wide range of services like retaining walls and landscaping for community development, commercial properties, and home building. Rock and stone walls are not merely attractive additions to a landscaped area or garden. They provide a sturdy and protective barrier to prevent movement of soil and erosion, too. Rock walls Kelowna services can be provided by excavating contractors. Below are a few rock wall ideas that can create a resilient and elegant enclosure in your property.
Rock Hard Excavating
~ Ideas worth sharing!
Undulating Rock Walls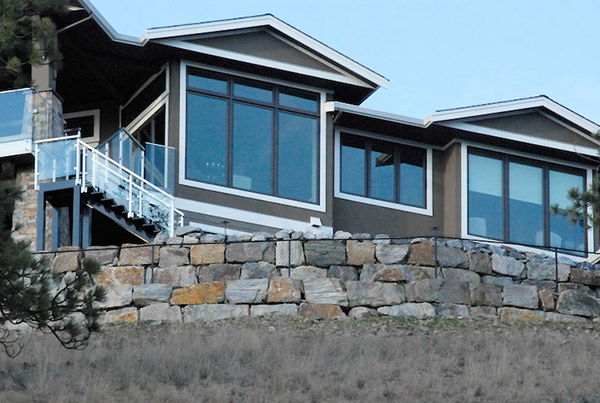 This type of stone wall can create an efficient barrier without compromising style. Fieldstone is a natural material that can be used for garden rock walls. Pieces of fieldstone can be stacked together, or you may use mortar to keep them in place. Dry stacked stones must be no taller than four feet. Combine Wood Fencing and Fieldstone Create a country look and feel in your own backyard by combining fieldstone with wood fencing. Consider a low fieldstone structure with a wooden shake centre on the top, then adorned with small pickets. Add a stone foundation for a more substantial and solid look. Tiered Wall You can create retaining walls that form a series of steps. They can serve as stairs when your property is hilly while providing efficient erosion prevention and control. Low Stone Wall This type of wall provides a clear barrier across your property line while maintaining the view. You can create more visual texture to the landscaping of your area when you use different sizes and shapes of rocks. Our experts here at Rock Hard Excavation can give you more ideas in rock walls Kelowna. We use proven engineering techniques and high-end materials to create sturdy retaining walls for your property.
Retaining Walls Kelowna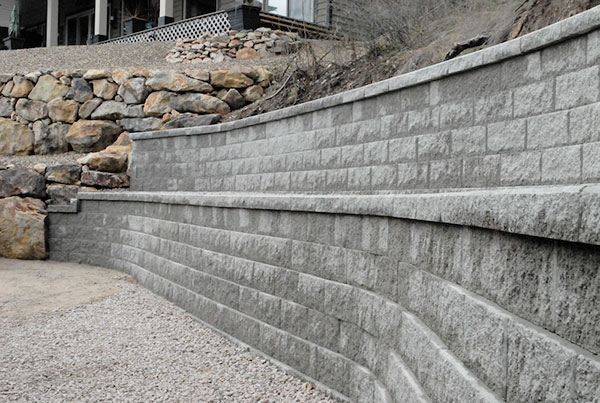 Retaining walls Kelowna is one of our specialties at Rock Hard Excavating. The job is a science that should be taken seriously to ensure the safety of your neighbors and property. If you need a retaining wall to raise and plateau your property, contact us for information. Soil can move and erode without proper support, especially when the area has been landscaped and there aren't many trees. You can build a retaining wall to prevent further erosion from happening. A retaining wall acts as a stabilizing element. There are excavating companies can be contracted to build retaining walls Kelowna for you. Retaining walls must be sturdy and substantial to redistribute and accommodate lateral pressure, which is caused by the soil and the sloping ground. A good retaining wall structure has seepage holes for easy escape of water, which the soil may collect due to rain and melted snow. A retaining wall can be made of different materials. Concrete and stone are the most common materials that are used to construct them, while light concrete and aggregate materials are typically combined to produce special blocks. Interlocked materials can also be used for retaining walls. They simplify assembly, reduce the time spent in building the all, and minimize the overall costs. Each block is designed to fit securely with one another, so it is possible to eliminate the use of mortar to keep them together. Retaining walls can be constructed in tiered form or a series of steps for aesthetic reasons and for more effective erosion control. The tiered structure helps break down the soil and provide better pressure resistance. Rock Hard Excavating can build retaining walls Kelowna for your home or business. We care about the safety of your property and neighbors, so we make sure to use high-quality materials and proven engineering practices to build retaining walls. Call 250-212-5156 so we can discuss your project, or leave a message in this website. Rock Hard Excavating can handle the excavation, grading, and back filling of your property, too.