Retaining Wall Block Types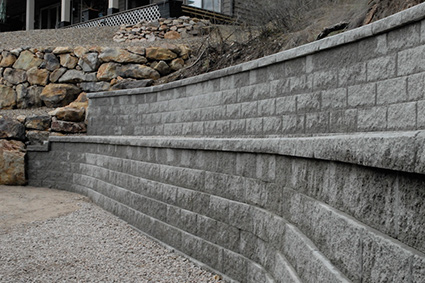 Allan Blocks
Allan blocks are the industry standard when it comes to interlocking retaining wall blocks/systems. Almost everywhere you go today you will find retaining walls constructed using these blocks. Allan blocks are easily noticeable as the interlocking system the use requires the top block to sit behind the edge of the block beneath it creating approximately a 10-degree slope per meter. Thus Allan Blocks are easily visible due to the distinct slope of the retaining walls constructed out of them.
Should the retaining wall you're preparing to build require a perfectly vertical profile, Allan Blocks might not be the right choice for your project. A Basalite or Techo block system might be the better option to attain that vertical profile.
For more information on Allan Blocks Click Here to visit their website. https://www.allanblock.com
Basalite or (Keystone)
Basalite blocks are one of the most common vertically stacking retaining wall blocks on the market. Their unique peg system allows them to be stacked vertically unlike Allan blocks that require a 10-degree slope, Basalite blocks utilize a fiberglass peg system as well as fill to attain their strength & rigidity. Basalite blocks come in a large array of colors, with a great variety or edge blocks that make for great-looking corners and stairs.
For more information on BasaLite Blocks http://www.basalite.com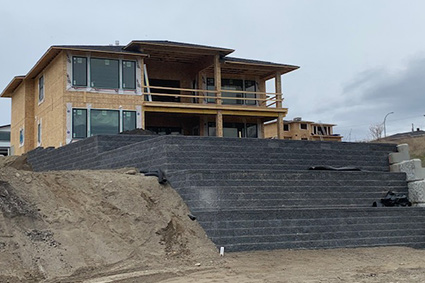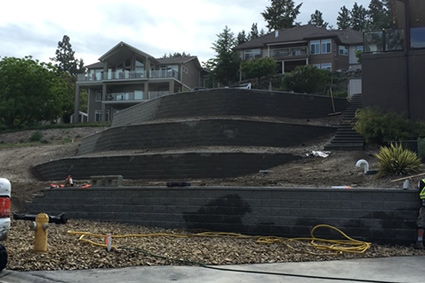 Techo-Bloc
The new kid on the block, leading the way in retaining wall block design & engineering. These blocks are beautiful & stand out from the rest.
For more information on BasaLite Blocks techo-bloc.com
Magnum Block
Similar to the large highway blocks you see all across the country retaining mountainsides - only smaller. Magnum blocks come in a standard size of 2 feet high x 4 feet long x 2 feet deep. Their larger counterparts "Hwy Blocks" are 2.5 feet high x 5 feet long x2.5 feet deep. While smaller than highway - Magnum blocks are still a large retaining wall block although they do lend themselves to curves better. Magnum block pricing can range from $23.00 to $27.00 per square foot where the Hyw blocks are $6.50 to 9.00 per block.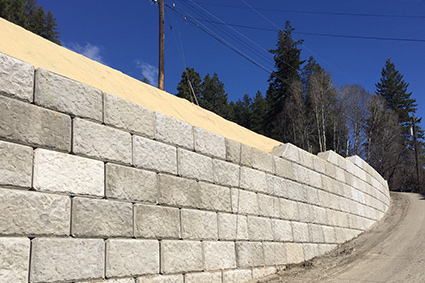 United Lock Block (Highway Block)
United Lock Blocks are the Premier Highway block providers/blocks types you will see used on all major highways throughout British Columbia. While readily available for federal and municipal projects these highway blocks are also available for residential and standard commercial developments.
As the largest retaining wall blocks one can get, there are many great uses for these types of blocks; they're simply second to none when it comes to retaining large amounts of materials, hillsides, driveways, you name it
Finishes
Lastly - United lock blocks - "highway block" product is available in a variety of finishes should you be looking for a little extra aesthetics more so than the classic large grey slab.
Natural Stone Rockwalls
Natural Stone retaining walls are a favorite among Okanagan homeowners as their aesthetic blends in perfectly with the local environment & provides a relatively seamless eco-friendly look & feel.
Mountain ash & Blue granite are the go-to natural stones readily available throughout the valley and the majority of the natural stone retaining walls you see in the area will have been constructed out of one of those 2 stones. We can however build Natural Stone Retaining walls from whichever stones you like, shipping in rare stone can tend to get a bit pricey but we do see it from time to time.
Natural Stone Shapes & Sizes
2-3 Footers
While all shapes & sizes are used in building retaining walls, some other common uses for 2 to 3 ft stones would be for easements and driveway edges, Garden borders and moderate to medium Landscaping accents, paths, etc.
4-5 Footers
These big boys are primarily used in the retaining walls themselves & are capable of retaining large amounts of material such as a steep driveway, yard edge you name it.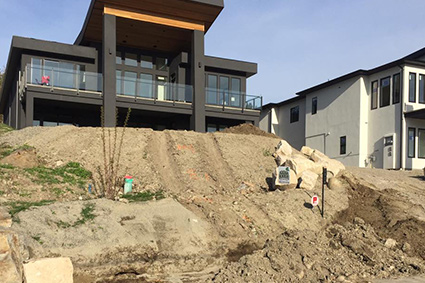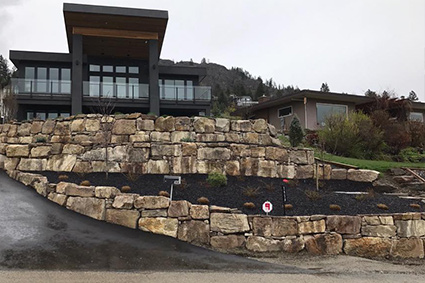 For more information on our Retaining Wall services please....
Contact Us