Backfilling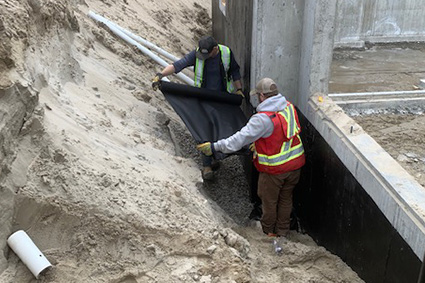 Backfilling new construction homes/properties is a large part of what we do. The backfilling process starts with a plan and in many instances, an intricate plan due to modern home designs and compact lot sites often makes the backfilling process a little trickier than it used to be.
The first step in the backfilling process is the installation of the perimeter drains and the pop up for the downspouts. These function to draw & drain rainwater & snowmelt away from the foundation of your home keeping it as dry as possible. From there we lay down  drain rock over the pipe and then filter cloth  & finally finish it off with a composite fill of sand and gravel. Ensuring this material contains the proper moisture content is key for optimum plate tamping (packing) which needs to be repeated for each and every 12" lift of fill we add.
While most backfilling jobs can be wrapped up fairly quickly, there are instances where it may take a little extra time as is the case with taller foundation walls. We are often only able to backfill in sections before we're required to hold back until further framing has been completed to ensure we don't place too much pressure on the exterior of the structure.
For more information on our backfilling services please....
Contact Us