Drainage
Drainage methods & systems come in all shapes & sizes - below are a few of the methods & systems we routinely work with.
Perimeter Drains
The perimeter drain's primary function is to catch and redirect water and moisture away from your home's foundation in order to keep it as dry as possible. Typically constructed of 4-6" PVC piping the drains are set alongside the base of your home's foundation, following each and every bend and twist as we go to ensure maximum effectiveness.
Downspouts
While we're setting & laying the perimeter drain pipe this is also the time to tie in any downspout access points that have been laid out in your home's blueprints or that you set out for us in advance. These access points are for your homes gutter system to tie into so that during heavy rainfalls the water off your roof has somewhere to go, into the downspouts, down through the perimeter drains & out into most typically ~ the city's storm drain system or into a drain pit engineered to size, base on the rainfall in your area   or system on your property depending on your specific circumstance.
Once the pipe is set & downspouts access points are installed, the piping is buried with at least 1 foot of drain rock and then topped with filter fabric that keeps the drain rock clean from dirt and materials to ensure the perimeter drains don't plug up with debris over the years.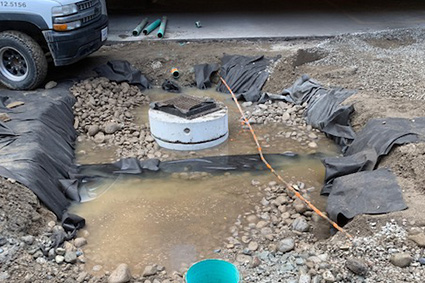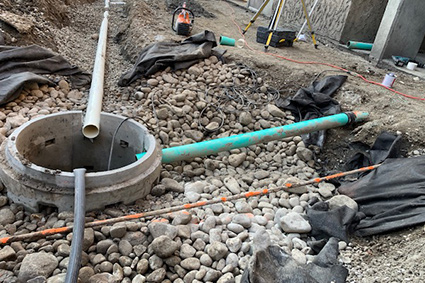 Drain Pits
For the most part with new home construction these perimeter drain systems tie & drain into the city's storm drain system. However, in many instances this is not the case and all that rainwater needs somewhere to go to get away from the foundation of your home. This is where drain pits come into play. Depending on the size of the perimeter drain system will directly relate to just how large your drain pit will need to be to compensate for the runoff. This can be any size from small 3x3' pits & up.
The pits themselves are relatively simple to set up. Once the hole has been excavated to the right size. The first a layer of filter cloth is placed, followed by a layer of drain rock, the perimeter drain pipe is set & burried in more drain rock, all of which is completely covered with another layer of filter which functions to keep the dirt out & from plugging up the system. A properly installed drain pit & perimeter drain system you should operate worry free for the lifetime of your home.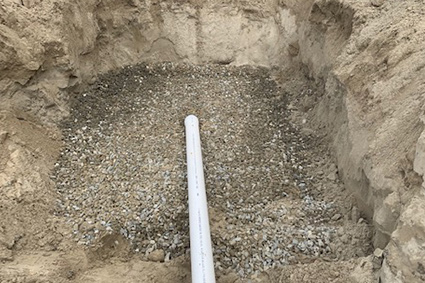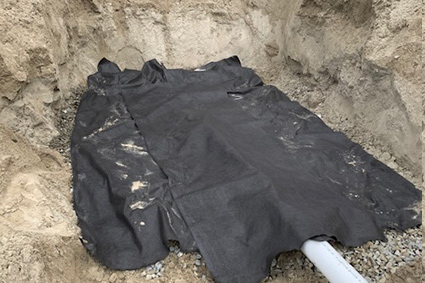 For more information on our drainange system services please....
Contact Us